Keynote Speech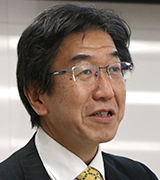 The Current Status and Issues of Advanced
Financial Services Utilizing IT
Mr. Yasushi Nakayama
Director, Center for Advanced Financial Technology
Financial System and Bank Examination Department
Bank of Japan

Conference Highlights
Blockchain & Crypto Asset in Financial Industry
JPX Group's Path to RPA Adoption and Initiatives for Encouraging Further Use
Digital Security (Security Token) Trading
-Where Are We Now and What Does the Future Hold for the Japanese Market?
Operational Risk Measures and Big Data Analysis Utilization Methods Required for Digital Transformation of Financial Businesses
Streamlining Financial Business Operations Using AI selected by the Financial Services Agency's "Fin-Tech Experiment Hub"
Geopolitical and Regulatory Challenges - Risks or Opportunities?
Outline
Tittle

21st Annual Japan International Banking & Securities System Forum 2020
~ Digitalization and DX required in the Financial and Asset Management Industry~

Date
February 27, 2020 13:00〜18:50
Access

Royal Park Hotel
2-1-1 Nihonbashi Kakigara-cho, Chuo-ku, Tokyo 103-8520 JAPAN
TEL: 81-(0)3-3667
Access

Fixed number
350
Organizer
JTB Communication Design, Inc.
Who Should Attend

Representatives of Securities Firms, Banks, Regional Banks,  Asset Management Companies, Insurance Companies, Stock Exchange Companies.

COO, CIO, CTO, Directors/Managers - Administration, Corporate Planning, IT/System, Treasury/Accounting, Equity, Risk Management, Compliance, Internal Audit, Foreign Exchange, Cross-border Settlement, Clearing & Settlements, Asset Management, Dealing/Trading, Business Strategy, International Operation.

Plus Regulators, Central Bank, Clearing Houses, Depositories, Vendors and Consultants

Registration Fee

For Financial Institutions
-1person ¥20,000
-2or more(per person) ¥16,000

For Non-financial Institutions
-1person ¥35,000
-2 or more(per person) ¥31,500

※Above fees include Coffee Break, Dinner Buffet & Cocktail Reception
※Above fees do not include tax. Consumption tax(10%) will be added.