A MESSAGE FROM THE EXPERT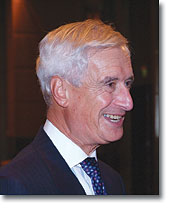 Dear Colleagues,
I am pleased to invite you to attend the 2007 Balanced Scorecard Asia Pacific Summit and Hall of Fame Awards for Executing Strategy™, being held for the first time in Tokyo 30 – 31 October 2007.
'Innovation in Strategy Execution', brings together some of the brightest minds in business to share new ideas, methods, tools and success stories at the 2007 Asia Pacific Summit.
Join me and invited speakers from leading organisations from around the world including Japan, China, Korea, India, the USA and Africa. I will present my latest thinking on 'Innovation in Strategy Execution', demonstrating how organisations that continually innovate can realise more impressive results over their competitors. You will also have the opportunity to gain an understanding of the exciting concept of Experience Co-Creation with Venkat Ramaswamy, co-founder of the Experience Co-Creation Partnership.
'Innovation' is recommended to be a dominant theme on everyone's Scorecard. Be part of the 2007 Summit: Innovation in Strategy Management and associate your brand and market position with the drive to realise innovation for business results.
Best Regards

Dr Robert S. Kaplan