Keynote Speech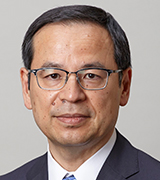 Challenges and Prospects in the JPX Markets
Mr. Koichiro Miyahara
President & CEO, Tokyo Stock Exchange, Inc.
Conference Highlights
Review of Where we are and the Future of Institutional Trading in Japan
Cutting Edge Technology is Changing the Landscape for Global Asset and Wealth Managers undertaking Multi-asset Investing
FRTB's Impact to the Financial Industry
Cyber Security – Information Sharing and Analysis – Impact on Financial Institutions
Outline
Tittle

17th  Annual Japan International Banking & Securities System Forum 2016
~ Electronic Trading and Risk Management under the Market Regulation ~

Date
February 25, 2016 13:00~20:00
Access

Royal Park Hotel
2-1-1 Nihonbashi Kakigara-cho, Chuo-ku, Tokyo 103-8520 JAPAN
TEL: 81-(0)3-3667
Access

Fixed number
300
Organizer
ICS Convention Design, Inc.
Who Should Attend

Representatives of Securities Firms, Banks, Regional Banks,  Asset Management Companies, Insurance Companies, Stock Exchange Companies.

COO, CIO, CTO, Directors/Managers - Administration, Corporate Planning, IT/System, Treasury/Accounting, Equity, Risk Management, Compliance, Internal Audit, Foreign Exchange, Cross-border Settlement, Clearing & Settlements, Asset Management, Dealing/Trading, Business Strategy, International Operation.

Plus Regulators, Central Bank, Clearing Houses, Depositories, Vendors and Consultants

Registration Fee

For Financial Institutions
-1person ¥20,000
-2or more(per person) ¥16,000

For Non-financial Institutions
-1person ¥35,000
-2 or more(per person) ¥31,500

※Above fees include Coffee Break, Dinner Buffet & Cocktail Reception
※Above fees do not include tax. Consumption tax(8%) will be added.