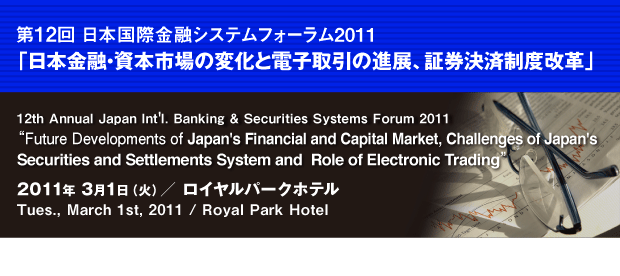 The main aim of this forum, JIBSIS, is to provide an international platform for academics, business professionals and government officials from Japan and abroad to come together to exchange ideas and come up with long term strategic approach to solve the economic-financial crisis and its impact on international business. JIBSIS will consist of workshops, networking sessions, exhibitions, keynote speeches, and panel discussions. Come hear leading experts give explanations of the change in securities industry, banking and investment fields of Japanese and Asian Markets and the future prospects of financial reform.

Launch of Tokyo Stock Exchange's "Arrowhead" and Trend of Electronic Trading
Japanese Derivative Market after the Launch of J-Gate
New Trends in Buy-side Trading
Low Latency in Electronic Trading
Spread of Co-location, Proximity Service
Spread of HFT, "Flash Order" and Regulatory Changes
Growth of Derivative Market, Flow of Multi Asset
Maintenance of Finance and Capital and Restructuring of Japan's Payments & Settlements system.
Settlement of JSCC
Roadmap to Shortening International Settlements
Framework of Combined Stock Exchanges and TOKYO PRO-BOND Market
Hedge Funds and Risk Management

8:50-9:20

9:20-9:50

Keynote Speech I

Outlook of the Japanese Economy and Markets

Kyohei Morita, Chief Economist, Barclays Capital Japan Limited

9:50-10:30

Keynote Speech II

OSE's Derivatives Markets and J-GATE, the OSE's New Derivaties Trading Platform

Kotaro Yamazawa, Member of the Board, Managing Director, Osaka Securities Exchange Co., Ltd.

10:40-11:00

Special Speech

Strengthening Japan's Securities Market through Improving the Infrastructure

Hironaga Miyama, Senior Executive Officer, Tokyo Stock Exchange, Inc.

11:00-11:25

11:25-12:35

Panel Discussion I

Japan's Financial and Capital Market in New Twist - Problem and View of the Clearing and Settlement System

Panelists:

Masayuki Mizuno, Chief Associate Director-General, Head of Payment and Settlement Systems Division, Payment and Settlement Systems Department, BANK of JAPAN (tentative)
Taketoshi Mori, Head of Securities Market Infrastructure, Transaction Services Division Global Network Management, Bank of Tokyo-Mitsubishi UFJ, Ltd.
Kazuhiro Hamada, Vice President, Morgan Stanley MUFG Securities Co., Ltd.
Keiichiro Shiraga, Senior Manager, Securities Business Planning Department, The Sumitomo Trust & Banking Co., Ltd (tentative)
Takehiro Hosomura, Head, Risk Management, Japan Securities Clearing Corporation

Moderator:

Satoshi Yoshida, General Manager, Head of Securities Administration Group, Global Markets Administration Dept., Daiwa Securities Capital Markets Co., Ltd.

12:35-13:35

13:35-14:20

Workshop A1

Global Trend of High-Speed Messaging

Kenichi Tachinooka
Corporate Officer, General Manager of Securities Solutions Division
Intelligent Wave Inc.

Bob Van Valzah
Director, Product Marketing
29West/Informatica

In the light of the expanding variation of order execution along with the activation of PTS, speeding up of exchanges in Japan such as TSE Arrowhead and OSE J-Gate, disparity in yield is widening among securities companies depends on the approach towards those technical and infrastructural trends.

In this session, Intelligent Wave and 29West/Informatica will jointly talk about the reality and trends of high performance systems and technologies such as HFT, increasing importance of high-speed messaging, and other latest global technology trends with actual cases.

Workshop B1

Business Technology Solutions Needed for New Market Risk and Financial Survival

James Wolstenholme
Director of Capital Markets WW FSI
Hewlett-Packard Company

The economic crisis has been the catalyst of Financial Reform but as Financial Services Firms have attempted to meet the new demands clients, markets and regulators there has been serious need to reengineering trading and operations. New market structure, trading and risk demands and client transparency are inadequately supported by past systems and technology. The top tier Financial Services Firms are already innovating and transforming their business processes and supporting technologies to win new market share and retain current clients. This presentation will cover what are the current business/ technical strategies and tactics of these Global Financial Services Institutions.

14:35-15:20

Workshop A2

Dawn of TSE derivatives market

Akira Tagaya, Sales Director, Derivatives
Tokyo Stock Exchange, Inc

Tokyo Stock Exchange will migrate the futures trading system into "Tdex+" based on Liffe-CONNECT. After that, investors will be able to access all TSE derivatives on a single platform. This workshop unveils a new growth strategy of Japanese derivatives.

Workshop B2

When One Size Doesn't Always Fit All - The Challenges of Implementing Foreign Trading Systems for Japanese Investors

Timothy Keough
Senior Implementation Manager
Charles River Development

Foreign trading system vendors have come to Japan to find that their out-of-the box product does not always work for the country's trading community. Their solutions, developed for a global framework, often are ill equipped to deal with challenges specific to Japan. These challenges may include functional gaps, language, appreciation of local project methodologies and client/vendor relationships, as well as Japan's financial market regulations.

Over the last 10 years, Charles River has successfully implemented its best-of-breed Charles River Investment Management System for a number of domestic and international Japanese investment firms. In this presentation, we will outline our approach to these challenges and how we have provided Japanese firms with an end-to-end, integrated solution that allows them to customize their workflows for their country- and company-specific requirements, among many other things.

15:20-15:45

15:45-16:30

Workshop A3

The Latest on Institutional Trading Technology - What Issues Buy-side & Sell-side are Facing?

Robin Strong, Director, Buy-side Market Strategy,
Fidessa
Hiroshi Matsubara, Marketing Director,
Fidessa kk

1) Global Investment Compliance Trends
In these competitive and turbulent market conditions, compliance and investment guideline monitoring process is increasing its importance within the buy-side business workflow. This session reviews the latest global compliance trends, focusing on analysis of the European markets and its relevance to the Japanese buy-side industry.

2) Internal Markets
In the post-arrowhead Japanese equities market, trading volumes of PTS and broker internal cross are slowly but steadily increasing. Internal Markets (broker crossing) will be closely connected with SOR and constitute a key component for brokers to provide best execution to their institutional buy side clients. The session presents analysis of the latest market structure and introduces Fidessa's concept of building a solution for Internal Markets.

Workshop B3

Bloomberg Cloud Computing with Open Technology

Francis Michel, Enterprise Solutions
Keiichiro Oikawa, Director, OMS Division
Satoshi Watanabe, Sales, OMS Division
Bloomberg L.P

Today's financial markets require organizations to adapt to changing needs and quickly deploy solutions. Understand how you can lower costs and drive efficiencies through two key areas:

1) Efficiency in Enterprise Market Data
Understand how new technology can enable you to deploy data flow across the enterprise through open standards and reduced dependence on closed systems and protocols.

2) Cloud Computing with Open Architecture
Today's requirement for best execution and multi-asset platforms require out of the box thinking. Understand how cloud computing and open architecture is transforming traditional ways of deploying new OMS and Trading solutions.

16:50-18:00

Panel Discussion II

Buy-Side Trading in Japan - Facing New Challenges in Today's Shifting Market Structure

Panelists:

Hironobu Nagaoka, Equity Trading Dept. Managing Director, Nomura Asset Management Co.,Ltd.
Yusuke Sakai, General Manager Trading Dept, T&D Asset Management Co., Ltd.
Takashi Hiratsuka, Group Leader, Asset Management Division, Trading Group, Resona Bank, Limited.
Shunske Nishino, General Manager Trading Dept., Daiwa SB Investments Ltd.
Junya Umeno, Director, Portfolio Management Group, Black Rock Japan Co.,Ltd.
Michi Mochizuki, Head of Japanese Trading, Schroder Investment Management (Singapore) Limited.
Kumiko Oe, Head of Japan & Asia ex Japan Equity Trading, AllianceBernstein Hong Kong Limited

Moderator:

Hiroshi Matsubara, Co-chair, Japan FIX Committee / Marketing Director, Fidessa kk.
* Agenda and speakers are subject to change.
** Lunch buffet will be served during lunch break.
*** Japanese/English Simultaneous Interpretation will be provided.

Royal Park Hotel
2-1-1 Nihonbashi Kakigara-cho, Chuo-ku, Tokyo 103-8520 JAPAN
TEL: 81-(0)3-3667-1111

Pre-registration is now closed.
If you wish to attend the forum, please come to the Onsite Registration Desk at the venue.
Please note that some sessions are fully booked.
Registration Fee
For Financial Institutions <1 Person> :

¥20,000

For Financial Institutions <2 or more>:

¥16,000 per person

For Vendor Solution Providers <1 Person> :

¥35,000

For Vendor Solution Providers <2 or more>:

¥31,500 per person
* Above fees include Conference Documentation,Lunch Buffet and Coffee Break.

Documentation Pack <1 set> :

¥8,500 including postage
* Above fees do not include tax. Consumption tax (5%) will be added.
Payment
An invoice will be sent to the mailing address registered. Payment must be settled within 10 days after the invoice arrives via bank transfer to the designated account.
Cancellation & Refund Policy
If the registrant is unable to attend, it is possible to have somebody attend in his/her place. Upon cancellation, the following refund policy applies.
Written notification of cancellation is received by February 8th: Conference fee minus 10% handling charge will be refunded.
Cancellation requested from February 9th onwards : No refund can be made. A documentation pack will be sent after the event.
* All refunds will be granted after the event.
* Please be informed that the conference program, speakers, venue, date may be changed or cancelled due to situations beyond the organizer's control.

E&G Division, Sales Department 3, ICS Convention Design, Inc.
Chiyoda Bldg., 1-5-18 Sarugaku-cho, Chiyoda-ku, Tokyo 101-8449 JAPAN
TEL: 81-(0)3-3219-3561 FAX: 81-(0)3-3219-3628
E-mail jibsis@ics-inc.co.jp
* Above date, venue, themes and agenda are subject to change.
* Lunch buffet will be served.
* Japanese / English simultaneous Interpretation will be povided.