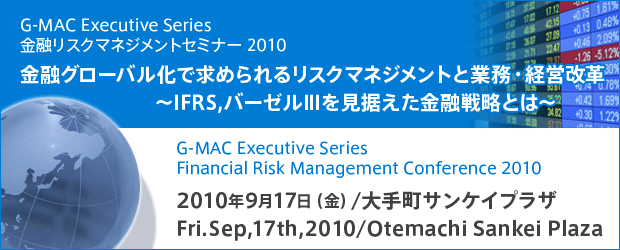 Evaluating growth in Asia : The Source of Growth and Risk
Improving Risk Management for Settlements Systems and Financial Infrastructure Reform
Financial Product Accounting, Product Evaluation and disclosure required for IFRS
Leveraging Operational Risk for Integrated Risk Management
Risk valuation in European Stock Markets
Risk & Capital Measurement in Europe and the USA : Evidence from Recent Stress Testing Exercises
Post-Financial Crisis Foreign Bond Market

12:00 - 12:30

Registration

講演者は変更になる場合がございます。

12:30-
13:10

Keynote Speech

Evaluating growth in Asia :The Source of Growth and Risk

Shinobu Nakagawa
Center for Monetary Cooperation in Asia
The bank of Japan

13:10 -

13:30-
14:10

Workshops : A-1

「IFRSで求められる金融商品会計とそれを実現するソリューション」

SAS Institute Japan株式会社
プロフェッショナルサービス本部
コンサルティングサービス部 RIグループ
部長 冨田 達也

金融機関がIFRS 対応を考える際、第9 号で規定される新しい金融商品会計は最も重要な項目の一つと言えます。IFRS 金融商品会計における主要な特徴は「会計とリスク管理の融合」であり、具体的には、信用リスクや期限前償還リスクの概念を会計に取り込むことが必要です。本講演では、IFRS 金融商品会計で求められるビジネス要件とそれを包括的に実現するためのSAS のソリューションの概要を説明します。

Workshops : B-1

「データの損失のリスクから企業を確実に守る新技術「重複除外」データ保護と災害対策」

EMCジャパン株式会社

加速的に増加する金融データを確実に保護して長期的に保管するには、2重3重の対策を施す必要があり、そのために企業は多大なコストと労力を掛けているのが現状です。そこでEMC ジャパンはIT 業界で最も注目を集める新技術「データ重複除外」に着目し、データ保護製品に取り入れたフルラインアップを用意しました。重複除外技術により、データを大幅に圧縮し、いままでのストレージでは実現できなかったような高いレベルで堅牢かつ安全に長期保管することが可能となりました。さらに、ネットワーク効率の良い遠隔コピーも可能となり、導入のしやすい災害対策が実現します。このセッションでは、なぜ重複除外技術で堅牢かつ安全なデータ長期保管が可能となるのか、またいかに簡単に災害対策を講じることが出来るのかを、実際の導入事例を交えて説明します。

14:20-
15:00

Workshops : A-2

「IFRSにおける金融商品評価と開示」

株式会社 電通国際情報サービス
金融ソリューション事業部金融事業戦略部
シニアコンサルタント 定政 成浩

金融機関の国際会計基準対応に関しては、現在も全面的な改定作業中である金融商品会計基準のために事業法人にくらべて大きな対応負荷があると考えられている。
特に金融商品の評価とその開示によるところが大きいと推察され、自己資本比率にも影響をあたえることからリスク管理やバーゼルとも密接な関係をもつと考えられる。
本セッションでは、IFRS 金融商品会計基準における金融商品の評価と開示という観点から金融機関のIFRS 対応について考察していきたい。

Workshops : B-2

「Leveraging Operational Risk for Integrated Risk Management
オペレーショナルリスク管理から始まる統合リスクマネジメント」

Maura Cieslik
Strategic Alliance Manager
OpenPages, Inc.

オープンペイジズ
ストラテジック アライアンス マネージャー
モーラ チースリク

With today's renewed focus on ensuring business performance, financial services institutions are learning that they can leverage operational risk management to improve performance in other risk management disciplines within their organizations. Join OpenPages in this seminar to learn how organizations are leveraging Operational Risk towards an Integrated Enterprise Risk Management approach. The OpenPages Operational Risk Management solution automates the process of identifying, measuring, monitoring and managing operational risk, while integrating all risk data, including risk and control assessments, loss events and key risk indicators.

15:10-
15:50

Workshops : A-3

「オペレーショナルリスク管理高度化のためのデータ分析について」

野村総合研究所
ERMプロジェクト部
上級研究員 小林 孝明

Workshops : B-3

「ヨーロッパ株式市場に学ぶリスク分析」

欧州サイベース社
ヘッド・オブ・ストラテジー&ソリューションズ
キース・ウッド

欧州の取引所では母国の取引所への上場義務が無く、さらに取引所と私設取引所 が同等に扱われており、取引所同士、または取引所と私設取引所が激しい競争を繰り広げられている中で、売買システムを提供する立場は法令で【最良執行】が義務付けられています。つまり、彼らは顧客の注文を価格の優劣で宛先をかえたり、複数取引所に分割注文を出し、約定が付いた宛先へオーダーを切り替えるなどの手法を提供する必要があるのです。これらの仕組みには複数の取引所・私設取引所から配信されるリアルタイム・データを活用できる基盤はもちろんのこと、リスク分析をするためのリスクデータウェアハウスの基盤が必要です。当セッションでは欧州の最先端取引システムで稼動しているサイベースの技術を現場レベルでご紹介します。

15:50 -

16:10-
16:50

Workshops : A-4

「金融危機後の外為市場とCLSの取組 (仮題) 」

CLS Group
土屋 潔 氏

金融危機以降、外為取引・決済関連で議論されたリスクや処理効率化を検証し、そのリスクに対してCLS銀行の果たした役割とこれからの課題を示す。

Workshops : B-4

「Risk & Capital Measurement in Europe and the USA : Evidence from Recent Stress Testing Exercises
欧米金融機関におけるリスク並びにキャピタル分析 〜 直近のストレステストの結果から〜」

Cristiano Zazzara
Credit Business Unit Manager
MSCI Inc.

Financial Institutions have put a strong focus on improving and refining risk management practices after the recent financial market crisis. While their risk and capital management continuously evolve and improve, there is no assurance that all market developments, in particular those of extreme nature, can be fully anticipated at all times. To that end, risk managers in financial institutions need to have a clear understanding of the interaction between risk and macroec onomic factors. In this session we will describe and comment on the results of recent Stress Testing Exercises carried out in USA (by the FED) and Europe (by the CEBS, in cooperation with the ECB, national supervisory authorities and the EU Commission) to assess the financial institutions' possible shocks on credit and market risks, including sovereign risks. The involved financial institutions were responsible for running the Stress Tests using their intertional risk models.

Special Lecture

Special Lecture

17:00-
17:40

Improving Risk Management for Settlements Systems and Financial Infrastructure Reform.

Junichi Shukuwa
Senior Manager
Corporate Planning Division
Economic Research Office
The bank of Tokyo-Mitsubishi UFJ,Ltd.

Risk Management of Asset Management Company

Yasuharu Yamada
Executive Officer
General Manager, Legal & Compliance
Department
Head of Information Security Management Office
Mizuho Asset Management Co.,Ltd

17:40
* Workshop B-2, B-3 and B4 will be accompanied by simultaneous interpretation in English and Japanese.

Otemachi Sankei Plaza
1-7-2 Otemachi Chiyoda-ku, Tokyo 100-0004 Japan
Tel; 03-3273-2257〜9

Please note that some sessions are fully booked.
Registration Fee
For Financial Institutions <1 Person> :

¥10,000

For Financial Institutions <2 or more> :

¥8,500 (per person)

For Solution Providers <1 Person> :

¥20,000

For Solution Providers <2 or more> :

¥17,500 (per person)
* Above fees include Delegate Documentation, Coffee Break.

Documentation Pack <1 set> :

¥8,500 including postage
* Above fees do not include tax. Consumption tax (5%) will be added
Payment
An invoice will be sent to the mailing address registered. Payment must be settled within 10 days after the invoice arrives via bank transfer to the designated account.
Cancellation & Refund Policy
If the registrant is unable to attend, it is possible to have somebody attend in his/her place. Upon cancellation, the following refund policy applies.
Written notification of cancellation is received by August 27th : Conference fee minus 10% handling charge will be refunded.
Cancellation requested from August 28th onwards : No refund can be made. A documentation pack will be sent after the event.
* All refunds will be granted after the event.
* Please be informed that the conference program, speakers, venue, date may be changed or cancelled due to situations beyond the organizer's control.


Registration has been closed.

G-MAC Division, Sales Department 3, ICS Convention Design, Inc.
Chiyoda Bldg., 1-5-18 Sarugaku-cho, Chiyoda-ku, Tokyo 101-8449 JAPAN
TEL: 81-(0)3-3219-3561 FAX: 81-(0)3-3219-3628
E-mail: gmac@ics-inc.co.jp
* Above date, venue, themes and agenda are subject to change.