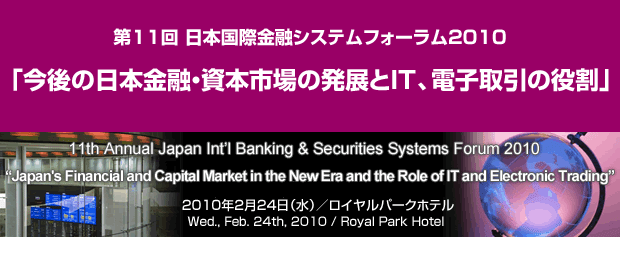 The main aim of this forum, JIBSIS, is to provide an international platform for academics, business professionals and government officials from Japan and abroad to come together to exchange ideas and come up with long term strategic approach to solve the economic-financial crisis and its impact on international business. JIBSIS will consist of workshops, networking sessions, exhibitions, keynote speeches, and panel discussions. Topics for discussion will range from the subprime mortgage crisis, the global economic sank into morass of downturn, and growth in emerging markets such as BRICS is slowing down. With effects of hedge funds, and the future of electronic trading in the current environment. Come hear leading experts give explanations of the change in securities industry, bank and investment field of Japanese and Asian Market and the future prospects of financial reform.

FSA's Outlook on the Future of Japan's Financial and Capital Markets (Keynote Speech)
TSE's Future Outlook on the Japanese Market (Keynote Speech)
TSE's arrowhead - How Will It Revitalize the Market Infrastructure? (Panel Discussion)
Expansion of the Alternative Execution Market and Expectation of Greater Liquidity
HFT, Flash Orders and the Trading Market
The Upcoming IFRS and Its Impact on Japanese Corporations
@

9:30-10:00

Registration

10:00-
10:40

Keynote Speech

I

: Future Developments of Financial and Capital Markets System in Japan (Tentative)

Naoya Aoto, Director, Office on Financial Instruments and Exchange Law, Financial Markets Division, Planning and Coordination Bureau, Financial Services Agency

10:40-
11:20

Keynote Speech

II

: Launch of the TSE arrowhead and the Future Prospects of the Japan Market

Hironaga Miyama, Senior Executive Officer, Tokyo Stock Exchange, Inc.

11:20-12:30

Lunch Break

12:30-
13:15

Workshops: Session A

Workshops: Session B

A1

Efficient Information Assimilation, Presentation and Analysis for Effective Risk Management for FIs

Nitesh Banga, Senior Engagement Manager
Infosys Technologies Limited

All financial institutions are increasingly being faced with the challenge of coming up
with an effective Risk Management (RM) strategy making efficient use of the endless
data generated by their enterprise technology landscape as well as information
externally available through numerous channels.

Do you feel that despite multiple IT systems catering to reporting needs of your organization, a lot of manual effort is still required to collate the "right" information?
Do you feel that your organization / department spends more time than necessary to effectively analyze the "right" information for better Decision Making and RM?
Do you feel that your organization needs more pre-alerts in order to enable proactive RM?

This session attempts to address the above challenges by advocating a comprehensive
information management framework aimed at enabling better decision making and
effective RM.

B1

Practical Approach for Building Financial Systems with Cloud Computing Technology

Toshiyuki Matsushima, President
Fitech Laboratories,Inc.

Over last three years, we have seen the phenomenal proliferation of cloud computing, which is changing how we develop, deliver and operate enterprise systems. Although the cloud technology is about to release applications from physical constraints, and let them exist floating in cyberspace, the methods and the practices that ensure the demanding SLA for financial systems are yet to be established.
In this talk, we discuss practical approaches to build secure and reliable financial systems using the cloud computing technology.

13:25-
14:10

ZLT - 29Westfs Zero Latency Tour (The Race to Zero) - A Panel Discussion & Pragmatic Case Studies for Trading Infrastructure Technology Planning

29West ZLT (Zero Latency Tour) comes to Tokyo after well-acclaimed sessions in London, New York and Chicago. The first ZLT in Asia!




A2

ZLT: Presentation

Maximizing ROI with the Latest in Technology Trends:
DirectEdge Exchange Use Case & Proven Methodologies for High Performance/Ultra Low Latency Trading Infrastructures

Mark Mahowald, President & Founder,
29West Inc.
Bob Van Valzah, Director of Integration & Consulting, 29West Inc.

29West will be discussing the importance of infrastructure and the messaging layer in the world of high performance trading along with the DirectEdge use case, the 3rd largest US stock exchange. We will discuss the proven pragmatic methodologies in designing high performance and reliable systems that can excute in micro-seconds which have proved to be enormously profitable. In addition, we will explore the future of infrastructure technologies for trading systems.

B2

IFRS Adoption and Considerations of Financial Institutions Based on Overseas Projects

Keizo Ishitani, Director
Application Development Financial Services
Application Innovation Services
IBM Japan, Ltd.

IBM supports a great variety of areas in customer projects, such as business management, operational restructuring and system adjustment to adopt IFRS.
In this lecture, IBM will introduce main discussion points and solutions IBM can deliver for IFRS adoption based on our experience in EU, Asia and other countries.

14:20-
15:05



A3

ZLT: Panel Discussion

Global Trends in Trading Infrastructure Technology

29West will bring industry experts and a distinguished panel together to discuss global trends in trading technology to include SOR, Algorithmic Trading Systems, Crossing Engines, Electronic Exchange Venues and Market Data Distribution Platforms. The panel will discuss how technology is changing the way trading is conducted, the benefits, the challenges and the impact in Japan.

Panelists:
Satoru Kimura, Professor,
Graduate School of Global Business, Meiji University
Naoki Nakashima, Chief Representative, NY Information Technology Center, Daiwa Institute of Research Ltd.
Tomohiko Hamada, Director, Equity Program Trading, Credit Suisse Securities (Japan) Limited
Mitsunori Fukushi, CEO, SBI Japannext Co., Ltd.
Mark Mahowald, President & Founder, 29West Inc.

Moderator:
Miki Imazu, President, WinDo's

B3

Enabling Agility through Cloud Architectures

Amir Halfon Chief Technologist
Global Financial Services Industry
Oracle Corporation

Cloud Computing has become one of the most important concepts in IT. It holds the potential of transforming the way IT services are being delivered by facilitating new levels of agility and automation that are impossible to achieve in the traditional data center.
This presentation will explore how public, private and hybrid cloud environments are changing the relationship between application developers and IT deployers, focusing primarily on the Financial Services industry. It will also discuss how applications, and our notions of their reliability and availability are being transformed by these new models and highlight the Sun technologies that are enabling these transformations.

15:05-15:25

Coffee Break

15:25-
16:10

A4

Importance of Middleware Solution toward High-Speed Processing.

Kenichi Tachinooka
General Manager, Financial Solutions Department
Intelligent Wave Inc.

As Japanese Stock Exchanges are having a significant increase in speed of transaction processing like the ones in the United States, Europe and other countries, the gap of earning capacity is widening depend on the effort to respond to the demand of high-speed processing such as algorithmic trading.
Considering the situation described above, this session talks about the system architecture with actual cases from customer utilizing messaging middleware (RIX AGENT , LBM) that is required to meet the demand of dealing/trading system for high-speed processing.




B4

Building the Infrastructure for Transactions and Algorithmic Trading in a World Too Fast for Humans

Toshiaki Hara
Director, Professional Service Div.
Sybase K.K.

16:20-
17:05



A5

HFT(High Frequency Trading) and Alternative Execution Venues in Japan
- Fidessa Solution for the Post - TSE arrowhead Era

Steve Grob, Director of Strategy, Fidessa plc
Hiroshi Matsubara, Marketing Director, Fidessa kk

The launch of arrowhead on Tokyo Stock Exchange is expected to bring fundamental structural change into the Japanese equity liquidity landscape. Expansion of liquidity from HFT and further development of alternative execution venues are anticipated. This session reviews structural transformation that the European market has experienced after MiFID, analyses the Japanese market situation, and finally will introduce the latest Fidessa solution for the post-arrowhead era in Japan.

B5

Future Ready- Beyond the OMS/OEMS: the Integrated Investment Management System

Victor Battista, Relationship Manager
Charles River Development

Japanese asset managers have traditionally used multiple front and middle-office systems. In the recent past, some of the leading firms have transitioned to order and execution managements systems (OEMS), however often putting in place different platforms for each asset class. The new frontier for the industry is the completely integrated investment management system that automates all investment management processes across asset classes and currencies on a single, consolidated platform.
In this presentation, we outline the challenges Japanese asset managers face when evaluating their front-office technology, and show how a best-of-breed investment management system integrates decision support and portfolio management; pre-trade, in-trade, post-execution, and end-of-day compliance; order management, electronic trading, and execution management; post-trade processing; and performance measurement, attribution and performance risk.

17:05-17:30

Coffee Break

17:30-
18:30

Panel Discussion:
Ongoing Structual Change of the Japanese Equity Execution Markets - Analysis of the post Arrowhead Era


Panelists:

Hironaga Miyama, Senior Executive Officer, Tokyo Stock Exchange, Inc.
Yoichi Ishikawa, Executive officer General Manager Proprietary Trading System, kabu.com Securities Co., Ltd.
Mitsunori Fukushi, Representative Director & CEO, SBI Japannext Co., Ltd.
Takashi Hiratsuka, Chief Trader, Asset Management Division, Resona Bank, Limited.
Hironobu Nagaoka, Equity Trading Dept. Managing Director, Nomura Asset Management Co., Ltd.
Michi Mochizuki, Head of Japanese Trading, Schroder Investment Management (Singapore) Limited

Moderator:

Hiroshi Matsubara, Co-chair, Japan FIX Committee /Marketing Director, Fidessa kk

Royal Park Hotel
2-1-1 Nihonbashi Kakigara-cho, Chuo-ku, Tokyo 103-8520 JAPAN
TEL: 81-(0)3-3667-1111

Access
http://www.rph.co.jp/english/access/acc00100.html

Pre-registration has been closed.
If you wish to attend the forum, please come to the Onsite Registration Desk at the venue.
Please note that some sessions are fully booked.
Registration Fee
For Financial Institutions <1 Person> :

¥20,000

For Financial Institutions <2 or more>:

¥16,000 per person

For Vendor Solution Providers <1 Person> :

35,000

For Vendor Solution Providers <2 or more>:

¥31,500 per person
*Above fees include Conference Documentation,Lunch Buffet and Coffee Break.

Documentation Pack <1 set> :

¥8,500 including postage
*Above fees do not include tax. Consumption tax (5%) will be added.
Payment
An invoice will be sent to the mailing address registered. Payment must be settled within 10 days after the invoice arrives via bank transfer to the designated account.

Cancellation & Refund Policy
If the registrant is unable to attend, it is possible to have somebody attend in his/her place. Upon cancellation, the following refund policy applies.
Written notification of cancellation is received by February 3rd : Conference fee minus 10% handling charge will be refunded.
Cancellation requested from February 4th onwards : No refund can be made. A documentation pack will be sent after the event.
– All refunds will be granted after the event.
– Please be informed that the conference program, speakers, venue, date may be changed or cancelled due to situations beyond the organizer's control.

G-MAC Division, Sales Department 3, ICS Convention Design, Inc.
Chiyoda Bldg., 1-5-18 Sarugaku-cho, Chiyoda-ku, Tokyo 101-8449 JAPAN
TEL: 81-(0)3-3219-3561@FAX: 81-(0)3-3219-3628
E-mail gmac@ics-inc.co.jp
*Above date, venue, themes and agenda are subject to change.
*Lunch buffet will be served.
*Japanese / English simultaneous Interpretation will be povided.